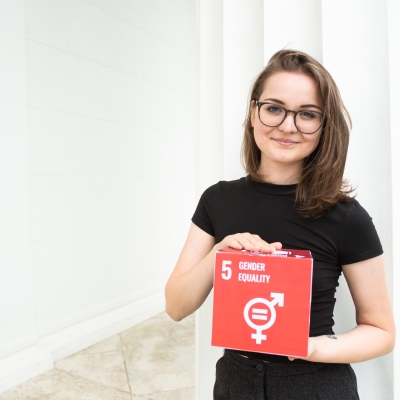 Short Vitae
After finishing her education in social and trauma pedagogy, Livia decided to move to Vienna for her study in German Philology and Education Science. Back in Upper-Austria she used to work with traumatized girls, who suffered from physical or sexual abuse. Inspired by these young souls, the idea of an art project against sexual abuse found its way to Livia's mind. Currently Livia is acting as art director and head of organization of this project, named UNSICHTBAR. With the help and cooperation of UNSA Vienna, UNSICHTBAR aims to be an eye-opener for our environment, in creating a safe space and above all awareness for victims.
Responsibilities
Livia is the initiator of the project UNSICHTBAR, where she acts as art director and head of organization. Besides that, she is part of the UNSA Vienna communications team, where she aims to support the team with creative ideas.
Statement of engagement
It's an honor for me to be part of a great institution like UNSA Vienna. Why is that? As mentioned at the homepage, UNSA Vienna aims at raising awareness and promoting exchange on commonly overlooked yet important topics within the UN framework (…). All this combines what I am trying to bring to the outside-world with the project UNSICHTBAR. Being supported by UNSA Vienna is more than I have ever expected to happen for this project. UNSA Vienna brings UNSICHTBAR to a whole new level of professionality and I am looking forward to work with extremely intelligent people who share my values and dreams for our worlds future.