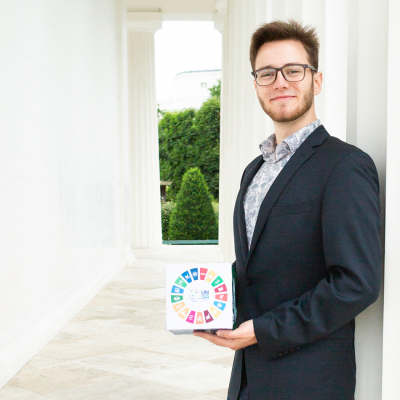 Short Vitae
Samuel is a law student and student teaching assistant who discovered his interest in global political and environmental issues and transcultural communication while studying abroad. Soon after, he and other students collaborated with their school to offer German classes for refugees. He is a scout and volunteers at Arbeiter-Samariterbund, an aid and welfare organisation engaged in emergency medical services, civil protection, and social welfare services.
Responsibilities
Samuel is Co-Founder and finance coordinator of UNSA Vienna and supports the IT department.
Statement of engagement
I work for UNSA because I believe our methods bear the potential to achieve our goals in connecting people, offering them new perspectives and opportunities to engage, and helping reach the SDGs. In addition, I appreciate the flexibility and the openness to new ideas and projects that UNSA offers, as well as our encouraging and motivational working culture.
Address
Amerlingstraße 9/7a
1060 Vienna
Austria