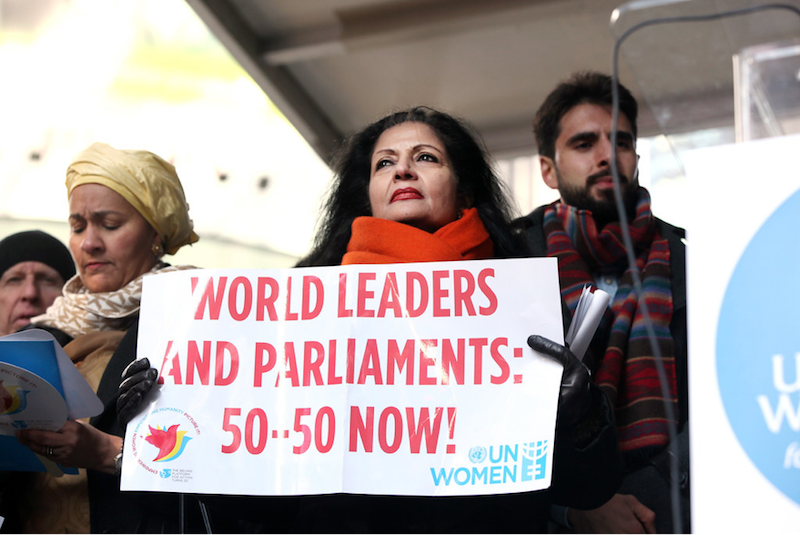 UNSA Vienna proudly supports International Women's Day 2021 and its theme of building up, supporting and strengthening women in leadership on a global scale, while acknowledging the challenges of COVID-19 and entrenched gender inequalities within the global economic and political context. Want to participate, share your thoughts, network, or brush up your knowledge on existing gendered issues the world over? Look no further, we've got you covered! The following list provides some of the events, conferences, webinars and online activities occurring globally throughout the month of March.
6th March, Saturday: NorthStar Solutions and Services – Future of Work: Power from the Female Perspective (also on March 13th, 20th and 27th)
Is one of your 2021 resolutions to develop more of an entrepreneurial spirit? NorthStar Solutions and Services is a professional training and coaching organization focusing on inclusive and collaborative work practices, remote leadership development, and impactful change communication. Their #ChooseToChallenge goal includes supporting the positive visibility of women in professional environments in partnership with CEPHR, LLC - a values-based HR Consulting Firm based in Pittsburgh, PA, USA. The two organizations are co-hosting a virtual discussion on how women's perspectives and experiences can positively influence future trends of the world of work, titled 'Navigating Career Pivots' and including panel discussions on the future of work and women, finding mentors, sponsors and allies, and achieving gender parity in leadership roles in a COVID-19 world. There are also other events to choose from.
This event is free of charge.
Where: https://www.northstaratwork.com/iwd2021 (link to register)
When: 8:00 AM Eastern Time (US and Canada)
7th March, Sunday: World Association of Girl Guides and Girl Scouts – It's Time to Listen to Girls!
The largest global voluntary movement dedicated to girls and young women, the World Association of Girl Guides and Girl Scouts has undertaken non-formal education programs, leadership development, advocacy and community organization in order to empower over ten million girls and young women from 150 countries. The online Zoom conference will involve discussions between girls and global decision-makers on the basis of testimonies forming the basis of U-Report consultations gathered by the organization. Topics discussed include self-esteem, violence, climate change and the impact of COVID-19. Speakers include UNSG Envoy on Youth Jayathama Wickramanayake, Norwegian Member of Parliament Solveig Schytz, Girl Scout and U-Report Global Ambassador Dorothy Rosario, and WAGGGS Advocacy Champion Fehizoro Rakotomalala.
The event is free of charge.
Where: https://www.eventbrite.com/e/its-time-to-listen-to-girls-tickets-138905603399 (link to register)
When: 2:00 PM GMT
8th March, Monday: The Israel Observatory on Femicide - 'Femicide: the Forgotten Global Pandemic
The Israel Observatory on Femicide is hosting a virtual conference: "Femicide: the Forgotten Global Pandemic", which includes speakers such as UN Special Rapporteur on Violence against Women Dubravka Šimonovič, Shalva Wail of the Hebrew University of Jerusalem and a diverse and global group of facilitators dealing with topics such as intimate partner violence from a global perspective, localized perspectives of gender-based violence, and femicide in international activism.
The event is free of charge.
Where: https://forms.gle/LHkSYtzq5YGvyZ296 (link to register) or via the website - www.israelfemicide.org
When: 5:00 PM - 7:00 PM CET
8th March, Monday: IWD 2021 – Women@Indeed EMEA
If gender-equitable practices within workplaces are your passion, don't miss this event! Inclusion Resource Group Women@Indeed have made it their mission to champion a culture of inclusion by providing advocacy opportunities, developing support for women and promoting allyship within Indeed. They aim to be a model for gender equality in both workplace culture and product output. Drawing from International Women's Day 2021 theme of #ChooseToChallenge, Women@Indeed have organized a panel discussion on how celebrating women's achievements, raising awareness against bias and taking action for equality can help challenge the underlying structures undermining a gender-equal world. The panel will discuss the impact of the COVID-19 pandemic and women in the workplace, the experience of discriminatory work practices, and the economic gender gap.
The event is free of charge.
Where: https://www.indeedevents.com/en-ie/iwdxwomenatindeed-dublin-030821/?utm_source=iwd (link to register)
When: 1:00 – 2:30 PM GMT
9th March, Tuesday: HYPE Innovation, Women in Innovation: Choose to Challenge
HYPE Innovation has set up its 'Women in Innovation' initiative in order to shed light on the experiences of women working in the innovation industry, to motivate more women and girls to pursue careers herein, encourage innovative strategies within organizations and create a positive precedent for the future. They're hosting a discussion with 20 women leaders in a variety of roles and from diverse backgrounds, industries and cultures who share their experiences working in the innovation sector, the challenges they've faced, and overcoming them. The discussion will be followed by a networking event where participants can share their experiences and build important connections.
The event is free of charge.
Where: Online - register here: https://www.lyyti.in/IWD-women-innovation-2021
When: SESSION 1 9:00 AM - 11:00 AM CET; SESSION 2 12:00 PM EST - 2:00 PM EST
10th March, Wednesday: Together We Are Powerful: Laura Bates in Conversation with Tessa Sanderson CBE
Feminist journalist Laura Bates, founder of the Everyday Sexism project and author of Girl Up, Misogynation, and The Burning, interviews Olympic athlete Tessa Sanderson CBE on the theme of strength through adversity. The event will be hosted by Solace Women's Aid, a UK-based NGO focusing on ending violence against women and girls. All proceeds will be channelled towards funding Solace's work towards a violence-free future for all.
Where: Zoom
When: 6:30 PM GMT
Cost: £10
For more details, please check out the website - https://www.solacewomensaid.org/get-involved/events/laura-bates-conversation-tessa-sanderson-cbe
11th March, Thursday: WEN, Why the Green New Deal must be Feminist (webinar)
WEN is a UK-based charity founded in 1988 and focusing on environment justice and the gendered aspects of climate change. Along with the Women's Budget Group, they authored and published a policy paper outlining what a Feminist Green New Deal and gendered analyses of the Green New Deal might cover in order to more equitably facilitate transition into a green economy. Their work draws from the contributions of women's rights and climate activists in the US as well as the Feminist Green New Deal Principles, which focus on advancing reproductive and sexual health rights, mainstreaming feminist analysis in regenerative economies, improving the situation for care workers and the care industry, and fighting against unsustainable solutions to climate change. Their webinar will include speakers such as Zarina Ahmad, adviser at WEN, Dr. Sherilyn MacGregor and Maeve Cohen of the University of Manchester, and Sara Reis, Head of Policy and Research at The Women's Budget Group.
The event is free of charge.
Where: https://www.wen.org.uk/2021/02/11/webinar/ (link to register)
When: 12:30 – 1:30 PM GMT
12th March, Friday: Clare Josa, Ditching Imposter Syndrome – How to turn your Inner Critic into a Genuine Cheerleader
Choose to challenge your negative self-talk and limiting beliefs! Leadership mentor, author and speaker Clare Josa is hosting an interactive online session called the Imposter Syndrome Masterclass. Imposter Syndrome itself refers to a constellation of mindsets centring over a perceived lack of experience and ability in comparison to the role one is appointed to – and which has been found to disproportionately affect women, particularly in high-positioned roles and even when they have the requisite qualifications to meet the requirements of the position. If you've ever caught yourself doubting your abilities within the workplace, or feeling like you don't somehow 'deserve' the position you've worked so hard for – join this free event. It promises to ensure that, upon completion, '…you'll finish this session feeling lighter, happier, calmer, more empowered, and ready to take action to set yourself free from Imposter Syndrome, once and for all!'
This event is free of charge.
Where: http://www.clarejosa.com/iwd2021/ (link to register)
When: 2:00 PM GMT, in case you can't join, a recording will be available until 5:00 PM GMT on Monday 15th March
13th March, Saturday: Young African Leaders Initiative (YALI) Regional Leadership Center Alumni Nigeria North Central Region – Choosing to Challenge Gender Inequality in Africa: Time to Change
The YALI RLC is hosting a virtual panel discussion centring over the challenges in addressing the gender gap in Africa, and ways to overcome it. Panellists include emerging young leaders originating from West Africa, Accra, Ghana, and a number of Mandela Washington Fellows, including lawyer and development professional Banke Ilori Oyenini, social development strategist Ugochi Obidiegwu, and veterinary surgeon Sunday Agbonika. Their experience includes work with political figures, fighting for inclusive governance and legislative reforms, advocating for social equality for marginalized groups (such as prison inmates), and providing policy advisory services on development issues with a particular focus on increasing safety provisions for young Africans, and particularly those with disabilities.
The event is free of charge.
Where: https://docs.google.com/forms/d/e/1FAIpQLSff1g17ZXkb9pL0sFI4LyKCIXmeV4kiTGk8dNyfabfn-MZ2Ow/viewform (link to register)
When: 4:00 PM West Africa Time
14th March, Sunday: Online International Women's Day Celebration – Women Rise up Globally against Femicide
Radical Women Australia and US have proudly sponsored the online event, which draws feminists, advocates, human rights activists and other stakeholders from a vast global context to participate in discussions centred upon the intersectionality of migration and gender-based violence, and how to address the 'hidden' pandemic of violence against women. Speakers include Amelia Kirk-Harkin, Austrian union activist, tradeswoman and artist and part of Melbourne Radical Women, college mathematics professor and member of the Mexican Partido Obrero Socialista (Socialist Workers Party), Eréndira Munguía, founder of Missing and Murdered Indigenous Women Washington, Earth-Feather Sovereign, and doctoral researcher in psychology, gender and social justice at the University of Tennessee, Charlotte Strauss Swanson of US Radical Women.
This event is free of charge.
Where: http://bit.ly/IWD-RW (link to register)
When: 4:00 PM Pacific Time (US and Canada)
Email: radicalwomen@optusnet.com.au
Facebook event: https://www.facebook.com/events/1238776999856840
14th to 26th of March: Virtual NGO CSW Forum 65
NGO CSW/NY has organized 500+ events aiming to '…inform, engage and inspire grassroots efforts and advocacy needed to empower women and girls.' Despite being entirely virtual this year due to pandemic requirements, the Forum promises a number of exciting events such as Consultation Day, conversation circles, regional caucuses, and the virtual Artisan Fair, a digital Exhibit Hall, and the Public Forum. A great opportunity to participate, network and showcase your work in the realm of women's rights!
Access is free and open to the public, however registration on the virtual platform and creating a profile to log in are mandatory.
Find out more details here: https://ngocsw.org/ngocsw65/ (link to register)
Don't see something that draws you in? There are hundreds of other events occurring on each of these days that will definitely inspire your interest and hopefully your commitment to the goal of furthering a more gender-equitable future. Check out the events at the official International Women's Day website for more!