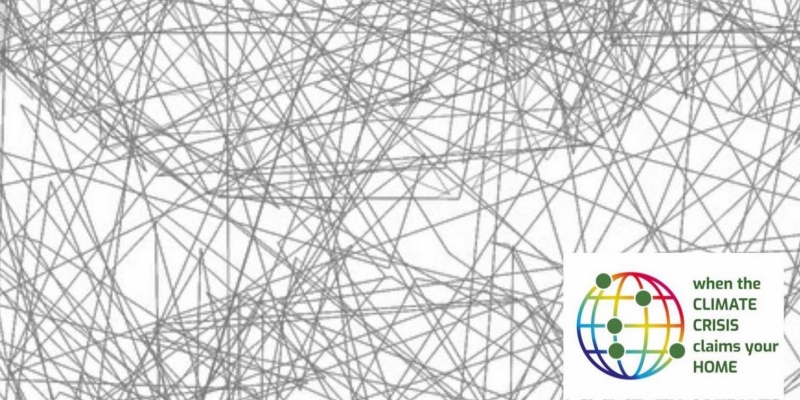 Executive Summary
Zum Auftakt unseres Kunstwettbewerbs am Langen Tag der Flucht am 02. Oktober 2020 werden wir mit einer Performance Action selbst aktiv. / To kick off our art competition on the Long Day of Flight on 2 October 2020, we will get active ourselves with a Performance Action.
Venue
Donaukanal, Freda-Meißner-Promenade, Höhe Salztorbrücke
Event details
Eine Kleingruppe wird damit beginnen, aus Seilen ein Netz der Solidarität für alle von Klimaflucht/Klimamigration Betroffenen zu knüpfen, das durch die Zusehenden/Vorübergehenden erweitert wird. Begleitet wird unsere interaktive Vernetzung von Informationsschildern und einem UNSA Vienna Infostand zum Thema Klimaflucht/Klimamigration.
Wir knüpfen ein Netz der Solidarität, ein Netz der Verbundenheit. Wir wollen uns zusammentun, aktiv werden und eine Vernetzung der gegenseitigen Hilfestellung schaffen. Knoten an Knoten. Wir werden stark, werden mutig. Wir zeigen auf: Klimaflucht/Klimamigration ist ein Thema, das uns alle betrifft.
Symbolisch steht unser Netz, das wir aus Kletterseilen knüpfen werden, für gegenseitig Verbundenheit, weil wir alle aneinandergeknüpft sind, nur im Netzwerk funktionieren können und nur im Netzwerk menschliche Lösungen für Problematiken wie Klimaflucht/Klimamigration finden werden. Unser Netz steht auch dafür, einander Halt zu geben, füreinander da zu sein, Sicherheit zu schaffen für den Moment, wenn die Klimakrise auch unsere Wände einmal einreißen wird.
Unsere interaktive Vernetzung ist Mut und gibt Mut zum eigenen Willen und zur sofortigen Handlung!
Zeigen wir gemeinsam Stärke, zeigen wir Mut, zeigen wir Solidarität!
-----
A small group will start to weave a net of solidarity out of ropes for all those affected by climate flight/climate migration, which will be extended by those watching/passers-by. Our interactive network will be accompanied by informative signs and a UNSA Vienna information stand on the subject of climate flight/climate migration.
In doing so, we are building a network of solidarity, a network of connectivity. We want to join forces, become active and create a network of mutual assistance. Knot by knot. We are becoming strong, becoming brave. We show: Climate flight/climate migration is an issue that affects us all.
Symbolically, our net, which we will weave from climbing ropes, stands for mutual closeness, because we are all connected, can only function in a network and will only find human solutions to problems such as climate flight/climate migration together. Our network also stands for giving each other support, being there for each other, creating security for the moment when the climate crisis will also tear down our own walls.
Our interactive networking is courage and gives courage to take immediate action!
Let us show strength together, let us show courage, let us show solidarity!
Registration
Für nähere und aktuelle Informationen bitten wir alle Teilnehmer*innen unserer Facebook-Gruppe "When the Climate Crisis claims your Home" und unserer Facebook-Veranstaltung "When the Climate Crisis claims your Home - Vernetzung" zu folgen.
Gruppen ab 10 Personen, die sicher mitmachen wollen und wissen, wann sie vorbeikommen werden, bitten wir um Anmeldung per Email unter ccam@unsavienna.org!
-----
For more detailed and up-to-date information, we ask all interested participants to join our facebook group "When the Climate Crisis claims your Home" and to follow our Facebook event "When the Climate Crisis claims your Home - Vernetzung".
Groups of 10 or more people, who are sure they want to participate and know when they will be coming, please register by email at ccam@unsavienna.org!